Edward C. Sun, MD | Orthopedic Spine Surgeon
Dr. Edward Sun
Board-Certified Spine Surgeon
Dr. Edward Sun, MD, is a board certified orthopedic spine surgeon with two fellowships in adult and pediatric spine surgery. Dr. Sun obtained his undergraduate degree from Stanford University and received his medical degree from Harvard Medical School. He completed his orthopedic surgery residency at the University of California at Los Angeles (UCLA). Dr. Sun then completed a pediatric orthopedic surgery fellowship with emphasis on spinal deformity at Harvard. He obtained a second fellowship in spine surgery at the Twin Cities Spine Center, one of the oldest and most respected spine fellowships in the country.
Dr. Sun has received multiple awards and recognition for his research including the National Institutes of Health Young Investigator Award and the Shriners Award for top medical research. He has presented at national spine meetings and conferences.
Dr. Sun is active in the most up-to-date and effective treatments of spine disease. He treats complex spine problems of the neck, upper and lower back. Dr. Sun has special expertise in minimally invasive spine surgery and motion preserving spine surgery. He is an active member of the Scoliosis Research Society and the American Academy of Orthopedic Surgeons. He is also a medical reviewer and contributor to the scientific journal "Spine".
Dr. Sun is married to Jacqueline Koo, M.D. They have two young sons. During his free time, he is often chasing after his kids. Dr. Sun also enjoys recreational running, swimming, and cycling. He feels blessed to live in the Bay Area and is dedicated to providing his patients the ability to enjoy the active Northern California lifestyle.
Education
Bachelor of Arts and Science, Stanford University, Stanford, California
Medical Doctorate, Harvard Medical School, Boston, Massachusetts
Residency/Fellowship Training
Orthopedic Surgery Residency, UCLA, Los Angeles, CA
Pediatric Orthopedic Fellowship, Harvard/Boston Children's Hospital, Boston, MA
Adult and Pediatric Spine Fellowship, Twin Cities Spine Center, Minneapolis, MN

See What
Our Patients Are Saying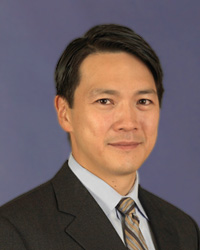 Edward Sun, MD
Dr. Sun specializes in the treatment of a variety of spine conditions and performs several adult and pediatric spine procedures including:
Minimally Invasive Spine Surgery
Motion Preservation Spine Surgery
Kyphosis
Scoliosis
Spondyolisthesis
Spondylosis
Degenerative Disc Disease
Disc Herniation
Spinal Stenosis
Cervical Spine Surgery
Hospital Affiliations
Dr. Sun practices at the following hospitals: